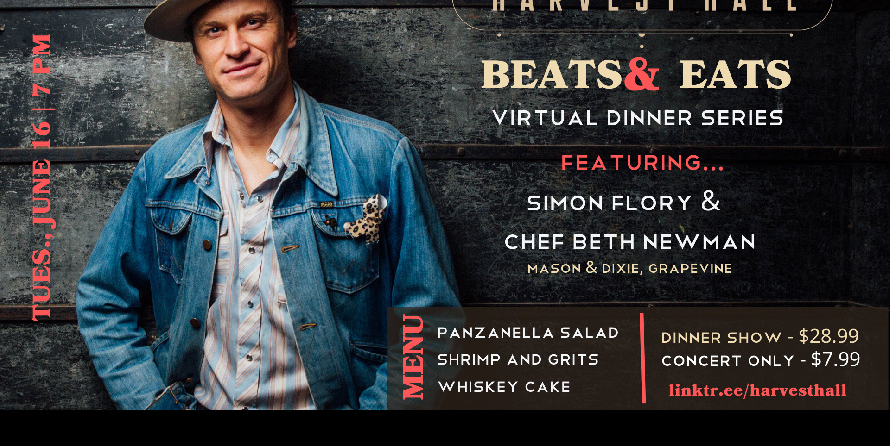 Join us on Tuesday, June 16 for our first virtual dinner series featuring Fort Worth-based artist Simon Flory and Chef Beth Newman of Grapevine's iconic Mason & Dixie!
Flory's roots-based music has been called, "A stew of early country, gospel, and the best of classic Nashville." Together with Chef Newman, whose Southern-driven cuisine has received rave reviews, the two have put together a musicalized culinary menu that combines Flory's music with Beth's delicious homestyle comfort food.
Music lovers and foodies will have several options to participate in this very special event. For those lucky enough to get reserved seating, guests can dine in at Mason & Dixie and enjoy the show from the big screen backed by spectacular sound.
For others who prefer to order takeout, you can pre-order your food at the link below pick it up on the day of the show before 6:45 and watch it together with friends and family from the comfort of your home.
And for those of you too far away either in another state or too far to order food from Grapevine, you can still purchase a ticket to see the show live and in living color from wherever it is you may be.
The live streaming will start at 7:00 p.m. and last approximately one hour. Tickets cost $28.99 for the three-course dinner from Mason & Dixie as well as Simon's show. Tickets exclusively for the concert can be purchased as well for just $7.99.
BUY TICKETS